The circular economy has been gaining more and more interest in the worldwide societies these days. A circular economy is proposed as an alternative to a traditional linear economy that consists of making, using, and disposing of the commercial product. In a circular economy, resources are kept in use for as long as possible while its maximum value is being extracted, which is then followed by recovery and regeneration of products and materials at the end of its life1. Hence, in this concept, resources are circulated in a closed loop of production processes. The figure below shows the illustration of the circular economy concept.
Recently, I participated in the Circular Materials Conference 2018. This conference was held in last March and took place in Gothenburg. It is one of the biggest conferences focuses on the circular economy framework. Participating in this conference was an excellent experience for me as the conference was different than the other conferences I joined before. The conferences that I join usually are academic conferences in which most of the participants and speakers come from universities or research institutes. However, in the Circular Materials Conference, most of the speakers are stakeholders from industry. Several representatives from big companies joined in the conference such as IKEA, Phillips, HP, Volvo, TetraPak, etc.
Those companies presented their current strategies to deal with materials reuse and recycling, as well as implementing a circular economy framework within their companies. For example, let's take a look at what IKEA, the world's largest furniture retailer, does to deal with those issues. The Development Leader of Circular IKEA presented the IKEA's strategies to achieve their vision on circular materials which is the circular capabilities of all IKEA products by 2030. The steps begin by enabling and engaging with customers in new ways. IKEA has started to launch innovative programs to support their customer with some option to donate, return, sell, or recycle their furniture through IKEA's stores. They also encourage their customer to prolong products' life by repairing, sharing, upgrading, or adapting their old IKEA product. At the same time, another route of achieving the product circularity has also been initiated by designing the IKEA product in some ways so that the products can be reused, repaired and recycled at the end of their life. Some of the fundamental concepts to achieve this sustainable design includes seeing products as material banks for the future and smarter use of resources. The resources development area includes wood, fibers, metals, polymers, surfaces, and textiles.
Another interesting presentation was given by the Senior Director Sustainability at Philips. He explained Phillips's business model innovation to drive circular design of their products. The history of Phillips's circular economy concept dates back to 1990s when they started the refurbishment and recycling programs. They then continuously improve it through several agendas and programs which include a partnership with Ellen McArthur Foundation. Their main goal is to entirely close the loop on all professional equipment (e.g., large medical systems equipment) by 2025.
Meanwhile, a speaker from Volvo, a Sweden-based automobile company, stated that the company has started to reuse materials from their old products for the new products, specifically to produce the car parts made from rubber. On the other hand, TetraPak which is the biggest food packaging company in the world, has started to replace their plastic products with fully bio-based materials which is not only enabling a fully close loop manufacture process but also reducing their CO2 emission. There were also more companies presented their current practice of circular economy such as H&M with their programs on textiles recycling and reuse; HP with the closed-loop recycled plastic-based product, especially for the printer's components; etc.
In this conference, I presented my poster about NEW-MINE project, specifically my scope of study at KTH which is the use of plasma gasification to convert landfill waste into gaseous fuel. As can be seen in the schematic diagram of the circular economy above, there are always material fractions that cannot be recovered or regenerated for the next production cycle. So far, one of the best options to utilize these unrecovered fractions is by converting them into energy resources. Thus, our works in NEW-MINE project is expected to contribute in achieving a fully close loop economy cycle in which no materials are wasted.
Being involved in the NEW-MINE project, I feel that it is important for me to not only focus on my experimental work but also on how I can give impact to the society with my work.  Joining the conference was a perfect opportunity for me to gain a broader perspective related to my research work as there were many companies and research institutes presented their progress on circular economy. Moreover, seeing many people trying together to achieve the same goal always give us more motivation to do our work. So, let's close the loop!
References
"WRAP and the circular economy". http://www.wrap.org.uk/about-us/about/wrap-and-circular-economy. Accessed on 4 May 2018.
About the Author: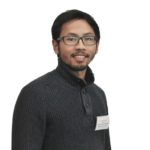 Ilman is our ESR 5. He originally come from Indonesia and currently lives in Stockholm, Sweden. Before moving to Sweden, he lived in Tokyo to pursue a master degree in the field of solid fuel thermochemical conversion. His current research at KTH Royal Institute of Technology focuses on the plasma-based gasification process to convert RDF from landfill into gaseous fuel. You can contact him at: zaini@kth.se.