In my previous blog post here, I talk about how circular economy works and how my Ph.D. works will contribute to achieving this emerging framework. In specific, producing hydrogen from gasification of landfill waste, and later on, using it as a fuel or chemical feedstock could be the best scenario for closing the economic cycle. Hydrogen has been named as the fuel of the future. It is a very clean fuel as it only emits water during the combustion process. Hydrogen as an energy carrier is a very flexible alternative which can be produced, stored, and harnessed in various ways.
The trend of using hydrogen, especially as a fuel for automobile, is only increasing these days as can be seen from the number of hydrogen refueling station for cars around the globe. In 2016, up to 92 new hydrogen refueling stations were opened in worldwide1. By 2017, there are approximately 330 hydrogen stations in operation worldwide. Europe accounts for the highest number that reaches nearly 140 stations which are then followed by Asia (118 stations) and North America (68 stations)2. Meanwhile, there is only one station that is currently operating in South America and Australia. Among those stations in worldwide, almost 70% are conventional retail station and the others are specialized for buses of fleet customers2. Japan, under their hydrogen society initiative, is currently the leading countries in term of the number of hydrogen fuel station. In the spring this year, Japan is expected to become the first country to reach 100 fuel stations milestone as they will open eight new stations3. Germany and USA follow Japan as the second and the third largest hydrogen fuel stations owners. However, when looking at the number of stations per inhabitant, Denmark ranks first which is followed by Norway, Japan, Germany, and Austria.
In Sweden, initiatives have been taken to use hydrogen as a replacement of coal in the steel industries. This is a crucial step as Sweden aims to completely phase out greenhouse gas emissions by 2045. In 2016, SSAB, one of the leading steel companies in Sweden, together with LKAB (Europe's largest iron ore producer) and Vattenfall (one of Europe's largest electricity producers) established HYBRIT, a joint-venture project that aims to replace coking coal, that is commonly used for ore-based steel making, with hydrogen4. This joint venture will eventually build the world's first fossil-free steel-making technology, with no carbon footprint.
Producing hydrogen from waste
Gasification is basically a thermal process to convert solid or liquid fuel into gaseous fuel with a minimum amount of oxygen. When we talk about hydrogen production via gasification, many factors are affecting the productivity of hydrogen. These factors include the operational temperatures; the type and amount of gasifying agent; as well as the residence time of the fuel. Typically, the highest hydrogen yield can be obtained by using steam as the gasifying agent, even though it will need higher energy as the fuel-steam reactions are endothermic reactions.  In addition, gasification with a higher temperature will also produce more hydrogen.
In the case of landfill waste gasification, the composition of the waste significantly affects the gas product composition as well as the hydrogen yield. For example, gas obtained from gasification of plastics commonly has a higher concentration of hydrogen as compared to gas from wood gasification. Moreover, waste from excavated landfill contains much more impurities which may affect the gasification performance. In my Ph.D. study, a part of my main goals is to find a gasification concept for landfill waste to get a high calorific value gas product and high concentration of hydrogen.
Thanks for reading!
References
About the Author: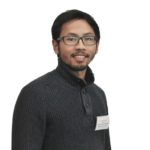 Ilman is our ESR 5. He originally comes from Indonesia and currently lives in Stockholm, Sweden. Before moving to Sweden, he lived in Tokyo to pursue a master degree in the field of solid fuel thermochemical conversion. His current research at KTH Royal Institute of Technology focuses on the plasma-based gasification process to convert RDF from landfill into gaseous fuel. You can contact him at: zaini@kth.se.