In the NEWMINE project, we aim to clean up the old landfills from the past. In order to do so, we want to dig up this waste, analyse what is in it and see how we can recycle it or make new products out of them. In this blog, I will focus on what is in our waste. We classify our waste in Solid Recovered Fuel (SRF) and Refuse Derived Fuel (RDF).
What is SRF/RDF?
Solid Recovered Fuel (SRF) is defined as a lightweight fraction from a waste treatment plant. Refuse Derived Fuel (RDF) represents a high calorific fraction from a waste stream that is (mainly) used for energy generation, satisfying specific quality criteria. The RDF is classified according to various characteristics (e.g. calorific value, chlorine- and mercury-content). The calorific value is primarily relevant from an economic point of view, since this value describes the energy content of the RDF. The chlorine content in the RDF represents the technological limit for the process, while mercury represents an ecological burden.
Accordingly, the calorific value of the RDF should be increased by mechanical treatment. This is achieved by enriching potential combustibles in specific material streams. These include above all plastics and paper. At the same time, the amount of mineral components, such as stones and sand, should be reduced since they are not flammable and consequently reduce the calorific value. Likewise, the water content should be as low as possible to allow a high calorific value. Only then RDF can be used for energy use successfully.
RDF-Production
After the enrichment of a high-calorific fraction by mechanical treatment (screening, air classification, etc.), sensor-based sorting is often used to separate, e.g. chlorine-containing particles from potential RDF fraction, as hydrochloric acid can form and harm installations in co-incineration plants. This is also the plan in our project NEW-MINE. But the production of RDF from landfill material represents a particularly big challenge. For example, although the wind sifter light fraction is suitable for the production of RDF, this substance stream primarily contains two-dimensional constituents. These are characterized by a low weight per unit area, whereby the influence of attachments, such as minerals is particularly high. Accordingly, it may be necessary to wash the high calorific fraction prior to use as RDF to remove adhesions. However, this can increase the water content of this fraction, which in turn suffers the calorific value.
Quality Assurance
By waste heat utilization or similar it is now possible to reduce the water content of the RDF. At the same time a consistently high calorific RDF must be ensured by quality assurance. This can be made possible by the use of sensors and appropriate evaluation software. Such software (SQALAR) is now also used in the NEW-MINE project, in the field of sensor-based detection and sorting. This software not only allows to classify individual objects based on their plastic/material type, but can also give an estimation concerning water- or chlorine-content in the particles of a material flow. Such an inline analysis allows the determination of average calorific value, water- and chlorine-content of a material stream based on the composition of singular particles in real time. For industrial use a database, based on extensive sampling, must be created.
In the NEW-MINE project, the software will be used for the quantitative evaluation of various parameters (moisture, surface roughness, oil / grease, etc.) influencing sensor-based sorting via NIR-technology. Results of these studies will enable a deeper understanding in what factors are most important for a successful classification and sorting of landfill material.
About the Author: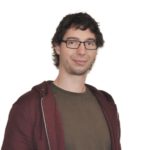 Bastian is our ESR 3. He is German, has a master in waste management engineering and works at the Montanuniversitat in Leoben. His research focuses on the utilization of sensor based sorting equipment in order to separate valuable particles (e.g. metals or plastics) from landfill material during mechanical processing. He studies the influence of defilements on sensor based sorting and on wet-mechanical treatment in order to reduce defilements, creating high quality recyclable material. If he's not in the university's lab's, you can most probably find him trail running, swimming or rock-climbing.