Hi, I am Paul, ESR 15. I wanted to let you in on my experiences during my first secondment in May and June at the REMO landfill. For me, this was a new experience. I have never visited a landfill before – have you? – and I was quite impressed, I have to say. First of all, it is BIG.  In this landfill site, 260,000 tonnes of waste are disposed each year. The operators also started developing the up-scaling stage of an ELFM project.
I visited the landfill together with my colleagues Giovanna and Jay-El from work package 4. We were led around all facilities by Daneel Geysen, the manager for science and technology, and discussed all about how the NEW-MINE project will proceed and, how the bigger picture of ELFM in general will evolve.
The waste at this landfill is pre-sorted into different compartments. Daneel showed us the water treatment plant, the gas-collection system, the engines that generate electricity from the collected gas and some other cool things, like an electronic nose for odour detections.
We first visited the water treatment plant. Basically, the water is collected at a low point of the landfill and then pumped into the treatment plant. From there it goes through various filter systems and comes out at a dwell. This dwell you can see on the picture. The water coming out of there is clean and has a very low salt content. Rumour has it, that a salesperson for those plants was drinking this water all day at a fair to show the people how clean it really is. What he did not think of was that because of the low salt content this water would actually dehydrate the body. I like to think that at the end, he was well off and I am not sure if the story is actually true, but I still think it is a nice anecdote.
Behind the water treatment plant, we could take a look at the engines generating electricity from the collected gas. With this electricity you could even charge your electric car for free, provided that you work at the REMO site and have an electric car. You can see some of those engines on the next pictures, one from the outside and one from the inside:
One of the really special things we explored, was the electronic nose. In cooperation with VITO, a Flemish research institution, Group Machiels has been working on the development of an early warning system for bad smell. The idea is to install these electronic noses on and around the landfill site and in the surrounding communities. If a bad stench would be coming from the landfill, the electric nose can detect it at an early stage and countermeasures can be taken. Nevertheless, I have to say that while we were visiting, the smell was actually quite ok, but this can probably change with the weather.
Finally, it's worthwhile mentioning that large parts of the landfill are already closed, with a liner and nature on top. Now we want to explore whether we could 're-mine' these areas and find out whether this could be a feasible activity to 'clean up' these old landfills. In exploring this, we will do a multi-criteria assessment, look at all perspectives and consider all sides of the coin. This implies a thorough economic, social and environmental assessment where are elements, pros and cons are brought together.
I hope this gave you a nice impression of what is going on at the REMO site, if you have any questions about our visit or ELFM in general, feel free to contact me.
Also, I can recommend to subscribe to the EURELCO newsletter here, and/or to follow us on Facebook, LinkedIn or Twitter. If you have any questions or suggestions about ELFM, please let us know. Critique is always welcome.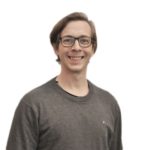 Paul is doing a policy and social impact assessment on ELFM, which is our ESR 15-position. He grew up in Berlin, where he also studied industrial engineering at the Technische Universität with visits to Mexico and Portugal. Before becoming part of the NEW-MINE team, Paul was working at a Collaborative Research Center on sustainable manufacturing. You can contact him at paul.einhaupl@liu.se.