During the last weeks we were planning the upcoming geophysical field work at two different landfill sites, the landfill site close to Mont-Saint-Guibert and the Remo landfill in Houthalen-Helchteren, both located in Belgium. We, that is me and my two supervisors Professor Marc van Meirvenne and Ellen van de Vijver, all work at Ghent university at the department of soil management. To get a better idea of the upcoming tasks, I went to visit both sites and a SRF (Solid Recovered Fuel) plant. Those visits are what my first blog entry will be about.
The company Shanks invited the ESR's from work package one (WP1) to visit their Solid Recovered Fuel (SRF) plant in the north of Ghent in February 2017. This fuel, produced from waste materials with a recoverable caloric value, is meant to replace parts of conventional fossil fuels. Also landfill mining projects, in particular NEW-MINE, deal with fuel production (Find out more about this), so I was curious about the processing at Shanks. In the morning, we listened to a short introduction by the company about the technical functionality and the economic aspects of SRF production and of course about the health and safety measures. Afterwards, we took a tour around the plant. It was really interesting to see how the waste is sorted and processed and how useful products can be created from the huge amounts of waste material that the company receives every day.
In the afternoon, all of us drove to Mont-Saint-Guibert, which is situated south of Brussels, to take a look at the close-by landfill site that is operated by Shanks as well. The location itself has been used as a landfill already for several decades. It was really impressive for me to see this huge area, which actually looked quite natural when walking over it, at the same moment realizing there are millions of tons of waste beneath my feet.
The older parts of the landfill are foreseen as a test case for Enhanced Landfill Mining (ELFM) within the NEW-MINE-project. We selected three locations where geophysical measurements will be conducted this spring and, based on the results, excavation locations will be selected. So, more on that after the first measurements.
At the beginning of March, I went to the Remo landfill. The company Group Machiels, the operator of the landfill, already has some experience with landfill mining and they are also part of the NEW-MINE project. Together with the company, represented by Daneel Geysen,I planned my secondment at Remo for 2018. We had a look at already closed landfill locations which are suitable for geophysical measurements. I am already looking forward to my time at Remo and I am sure I can learn a lot there about different kinds of waste materials and their characteristic signatures in electromagnetic measurements. It was also possible to take a look at the active part of the landfill. Daneel showed me where and how new waste is delivered to the site and how it is stored there. Since I never saw an active landfill before, this was an impressive experience and it helped me to understand the tasks that I will meet in the upcoming years.
As a short resume, I can say that the visits were really helpful and I got a better idea of my work in the context of the whole project. I am already curious about the geophysical measurements at the different locations. I will keep you posted.
About the author: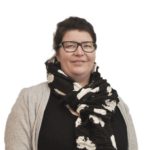 Christin is our ESR 1. She is German, has a master in geosciences from the RWTH Aachen University and has worked there for a few years as research assistant. Her research focuses on the modelling the landfill subsurface through integration of multi-sensor geophysical data. When she's not planning on how to dig up your garbage, you might find her traveling, playing the piano, or smashing a volleybal! You can contact her via e-mail christin.bobe@ugent.be.