This photograph was taken in July 2019 in a town called Muncar in Banyuwangi, Indonesia. It is primarily a fishing town where most of the residents have never seen this beach clean in the past few decades. The fishermen realize that plastic pollution in the ocean is impacting their livelihood and that they need to move away from status quo. But, it is about having alternatives, sustainable alternatives. This is just one example of one of hundreds if not thousands of villages/towns/settlements along the coasts that lack waste management infrastructure.
Since I am part of the Young Professional Group (YPG) of ISWA, I would like to present you one of the global campaigns that my colleagues have designed to close the major dumpsites in the world, called Closing Dumpsites to Protect the Ocean!
https://www.youtube.com/watch?v=vyaoX2qLl0w
As you may know, closing dumpsites is important from the public health and the environmental perspective and is equally important for the safety of the people living around these sites. The YPG would like to create a report that provides a guidance for the procedures to close a dumpsite and develop an alternative waste management system. Besides, they aim to raise awareness about dumpsites and deliver best practices in communities with limited resources.
However, the activity to close dumpsites is not a simple task; it requires a lot of planning, institutional and administrative capacity, financial resources, social support and political consensus. All of these conditions are difficult and sometimes impossible to meet in countries where dumpsites are the dominant method of waste disposal and level of governance quality is questionable. Therefore, the YPG works together with municipalities that are committed to improve their waste system and moving up waste hierarchy with a long-term vision.
They money from the campaign will be spent towards a feasibility study to identify site specific solutions for specific dumpsites and replace it with locally appropriated solutions, like engineered landfill.
The journey ahead is by no means easy or simple, but a journey of a thousand miles begins with a single step and sometimes that first step is what is needed to make a change.
I will not ask you to help us, but to help you: Support this campaign! https://www.indiegogo.com/projects/closing-dumpsites-for-our-oceans-planet-people#/
About the author: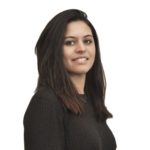 Cristina García is our ESR02. She comes from the sunny coast of Spain and, after being living in several countries (England, China, Finland and Poland), she stablished in Germany to study her PhD in the field of landfill mining and waste processing at the RWTH Aachen University. Her main interest is to build a model that can calculate and assess the potential of MSW landfills as a possible depot of resources, after different sorting processes. Therefore, she needs to perform several excavations in different parts of Europe in order to gain information about the quantity and the quality of the LFM waste and learn how this material can be sorted in possible marketable products. You can contact her at: Cristina.garcialopez@iar.rwth-aachen.de