Manufacturing industries' challenges and needs are powerful driving forces to stimulate scientific innovation. The industrial exploitation of scientific knowledge is a key aspect of modern research and constitute a highway to transfer scientific breakthroughs and discoveries back into society in the form of advanced products and services. Promoting this symbiotic relation is at the core of many European research programs such as New Mine; my PhD is perfect example of that.
Italcementi Heidelberg cement group embraced this ambitious European project as an industrial partner. Therefore, I am able to conduct part of my research at Heidelberg Cement's research and innovation center, I-lab, with close collaboration with two academic partners, KU Leuven and the University of Padova.
My research is dedicated to the development of engineered building materials using residues as raw materials. Upcycling residues from landfills simultaneously represent an unexplored research field and a possible solution for a sustainable value-chain in the construction sector. KU Leuven Department of Materials Science (MTM), more specifically the SREMat group, has a vast experience in developing innovative materials from metallurgical slags and other waste streams. I traveled to Belgium to enrich my knowledge in specific characterization techniques, to share my experiences and to (try to) solve any difficulties.
A few weeks later, I briefly went to Aachen, Germany, where the second MSCA ETN NEW-MINE Network wide event took place. During the event, all the ERS reported on the progress they made during the last six months. Critical issues and future collaborations were identified. We also had the chance to visit the Leppe landfill site and received several science and technology trainings as well as soft-skill trainings.
Back in Leuven, I continued my training on characterization techniques. This time I explored the Fourier-transform infrared spectroscopy (FTIR) and X-ray computed tomography (CT).  FTIR is a useful technique to characterize chemical bonds and, in my field of research, to evaluate the reactions happening during the hardening of the binders, like cement. Identifying and characterizing such reaction processes is fundamental to tune and optimize the materials final properties.
Apart from binders, a second branch of my research is the development of insulating materials. The insulating capacity can be enhanced by tailoring its porosity (not exclusively but also). X-ray computed tomography is an innovative technique, that is currently being used to create 3D virtual models of objects and provides valuable information about the structure without destroying them. In Figure 1, you can see Yodas' internal structure as an example. Star Wars fans can rest because no Yodas were harmed during these experiments. The video below shows in detail the process of taking cross-section images of an object and how afterwards these images are reconstructed to produce a 3D model to quantify porous shape, size, amount and connectivity.
With all these lessons learned, is time to put these knowledge into practice. Experiments were conducted, and data collected. The first results were encouraging. A lot processing data and further analysis is still needed but as Obi-Wan once said "May the Force be with New-Miners".
Video credits to: Fabien Léonard
I hope this post triggered some curiosity about the characterization techniques described. The results of these experiments will be available but meanwhile you can follow our updates by subscribing the EURELCO newsletter here, or follow our updates on Facebook, LinkedIn or Twitter.
If you have any questions or suggestions, please let us know. Critique is always welcome.
GA.
About the Author: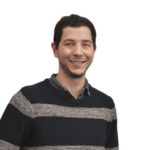 Guilherme is our ESR11. He was born and raised in Portugal and moved to Italy to start his PhD. He is in charge of engineering building materials converting vitrified solid residues derived from the thermochemical conversion of RDF (WP2) into raw materials to produce innovative value-added low-carbon products. Upcycling such residues will represent a sustainable value-chain solution.