Quite often, people ask me – why pyrolysis? Can't we just incinerate those excavated waste?
Indeed, incineration is frequently mentioned as the most effective way of excavated waste valorisation. Almost 30 years ago, the Lancaster County Solid Waste Management Authority (Lancaster, PA, USA) launched the project of landfill reclamation combined with the incineration of excavated material which outcomes were summarised in the form of a report in 1995 [1]. The excavated waste incineration was technically possible, the report reads, but resulted in the intensified abrasion of the feeding equipment and flue gas ducts as well as in overstressing the loading cranes.
Roughly 20 years later, the German research group from RWTH Aachen University, took up the challenge again and performed the series of experiments in the waste incineration plant of Hannover [2]. They incinerated refuse-derived fuel (RDF) formed from excavated waste alone and co-incinerated it with fresh waste. The overall conclusion was that the co-incineration of the excavated RDF with the high share of fresh waste (approximately 1:10) is technically suitable. All in all, we can see that excavated waste incineration is technically possible but demands considerable process and equipment adjustments. However, the question arises – is incineration a future-proof answer?
The new EU's Circular Economy Action Plan for a cleaner and more competitive Europe encourages the implementation of economic instruments stimulating the circular economy, such as environmental taxation among which landfill and incineration taxes are present [3]. Looking ahead, at the end of 2019, the Swedish government announced a waste incineration tax coming into force in April 2020 as another step on the path towards fossil-free society [4]. This puts incineration in a precarious position and fixes people's eyes on other available waste-to-energy technologies. One of such technologies is pyrolysis, the well-known process for tens of years. But is it suitable for such demanding feedstock like the excavated waste?
Noticeably, pyrolysis is seen as a part of modern excavated waste management systems. In 2017, a Belgian research group from Université libre de Bruxelles succeeded in the production of alternative fuel for cement kilns from a mixture of excavated plastics and lubrication oils in which the excavated plastics share was up to 60 wt% [5]. The researchers, moreover, claimed that the process is economically viable from an energetic point of view. A little later, another research group, this time from Cranfield University, indicated pyrolysis as a possibly viable way of excavated plastic valorisation but highlighted the necessity of more research on the process [6].
The above triggered my research aimed at analysing the potential of excavated waste' pyrolysis as a source of valuable products. I put special emphasis on the volatiles produced during the process (Fig. 1). The first stage of my research, including the characterisation of the feedstock (RDF formed from excavated waste) and the pyrolysis products, has already been accomplished and, is currently under the publication process. So if you want to know more – please get in touch!
[1]       Forster GA. Assessment of Landfill Reclamation and the Effects of Age on the Combustion of Recovered Municipal Solid Waste (NRELfTP-430-7449). Colorado, U.S.A.: 1995. [2]       Rotheut M, Quicker P. Energetic utilisation of refuse derived fuels from landfill mining. Waste Manag 2017;62:101–17. https://doi.org/10.1016/j.wasman.2017.02.002. [3]       European Commission. A new Circular Economy Action Plan for a cleaner and more competitive Europe. 2020. https://doi.org/10.1017/CBO9781107415324.004. [4]       IEA Bioenergy 2020. Will the tax on waste incineration increase recycling in Sweden? Task 36 2020. http://task36.ieabioenergy.com/news/tax-on-waste-incineration-increase-recycling-sweden/ (accessed May 3, 2020). [5]       Breyer S, Mekhitarian L, Rimez B, Haut B. Production of an alternative fuel by the co-pyrolysis of landfill recovered plastic wastes and used lubrication oils. Waste Manag 2017;60:363–74. https://doi.org/10.1016/j.wasman.2016.12.011. [6]       Canopoli L, Fidalgo B, Coulon F, Wagland ST. Physico-chemical properties of excavated plastic from landfill mining and current recycling routes. Waste Manag 2018;76:55–67. https://doi.org/10.1016/j.wasman.2018.03.043.
About the author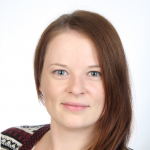 Katarzyna Jagodzińska was born in Poland and is now working at KTH in Sweden. Her research tries to answer the question if we can produce valuable energy and materials from excavated landfill waste through the pyrolysis process.